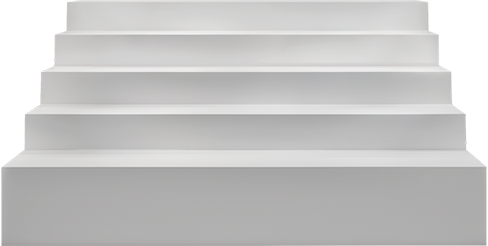 $975.00 per set
5 Step Risers are ideal for maximizing the display of several miniature to small cabinet-sized specimens. Step Risers are quick and easy to utilize while still allowing each mineral a spot in the limelight. All of our risers are made of a solid wood construction and are finished in an incredibly resilient paint for easy cleaning. Color customization available to match any interior.
Available in Black or White
Custom color upgrade available

Passive, solid construction, designed for smaller specimens
3 stackable sections
Size Range
Top tier – 3" rise x 3" deep, 3″ rise x 4" deep
Middle tier – 3″ rise, 3″ deep, 3″rise, 3″ deep
Bottom tier – 6.5" rise, 4″ deep
All tiers 40″ wide
Bring Your Vision to Life
We offer comprehensive display solutions ranging from small light panels that can be retrofitted in existing cabinetry to stunning display cases customizable to any space. From museum to private residences, our presentations have elevated mineral displays around the world. The options for customization are endless and we are always on hand to work with you to create something extraordinary.