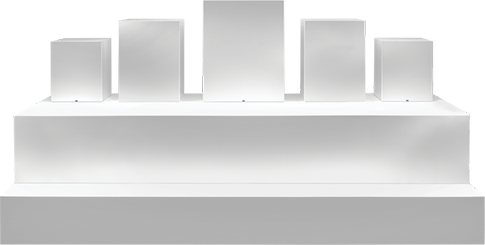 $3,050.00 per set
The Hybrid Riser Set combines the ease and additional space of our Step Riser system with the ability to highlight select specimens utilizing our Standard Risers. Our Step Risers are made of a solid wood construction and durable metal, finished in an incredibly resilient paint for easy cleaning and have been designed to channel cords out of sight. Color customization available to match any interior.
Available in Black or White
Custom color upgrade available
Electric bottom and middle step
Clutch mount compatible (individual risers)

Each electric step is equipped with 30 backlight points with spring loaded retractable covers that hide the LED socket from view when not in use
Includes 5 individual passive risers for top tier which include magnets for Backlight Hubs sold separately
Size Range (width x depth x height)
1 – 8" x 6" x 10"
2 – 6" x 6" x 8"
2 – 5" x 5" x 6"
Middle tier – 6″ rise, 6″ deep
Bottom tier – 3" rise, 5″ deep
All tiers 40″ wide
Bring Your Vision to Life
We offer comprehensive display solutions ranging from small light panels that can be retrofitted in existing cabinetry to stunning display cases customizable to any space. From museum to private residences, our presentations have elevated mineral displays around the world. The options for customization are endless and we are always on hand to work with you to create something extraordinary.