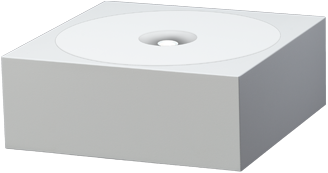 $2025.00 per Unit
The Turntable Riser rotates those special minerals with 360° viewing capability to allow full view of your specimen. It features full rotation and speeds that can be adjusted to your preferred pace. With a soft start/stop feature and underlighting capability, the Turntable Riser has been thoughtfully designed to create a safe and dynamic display for your specimen. Made of machined aluminum and finished in an incredibly resilient paint for easy cleaning. Color customization available to match any interior.
Available in Black or White
Custom color upgrade available
Adjustable speed with soft start/stop

24V connections compatible with FMI cases
Can be used as stand alone unit with wall plug
Designed for heavy minerals
Minimum Size Range (width x depth x height)
6.5" x 6.5" x 3"
Bring Your Vision to Life
We offer comprehensive display solutions ranging from small light panels that can be retrofitted in existing cabinetry to stunning display cases customizable to any space. From museum to private residences, our presentations haveelevated mineral displays around the world. The options for customization are endless and we are always on hand to work with you to create something extraordinary.