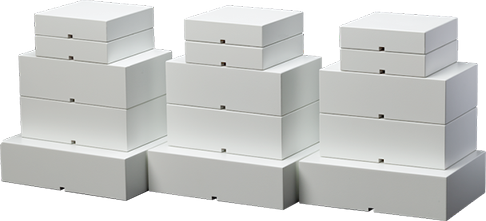 $530.00 per set
Light Tower Risers were created with the understanding that minerals should not only be at their individual best but should also exist in harmony and balance with others within a display. They raise specimens just the inch or two that they need to optimize your presentation. All of our risers are made of a solid wood construction and are finished in an incredibly resilient paint for easy cleaning. They've been specially designed to channel any and all cords away from view. Color customization available to match any interior.
Available in Black or White
Custom color upgrade available

Includes magnets for Backlight Hubs sold separately
Clutch mount compatible
Size Range (width x depth x height)
6 – 4" x 4" x 1"
6 – 6" x 4" x 2"
3 – 7" x 5" x 2"
Bring Your Vision to Life
We offer comprehensive display solutions ranging from small light panels that can be retrofitted in existing cabinetry to stunning display cases customizable to any space. From museum to private residences, our presentations have elevated mineral displays around the world. The options for customization are endless and we are always on hand to work with you to create something extraordinary.