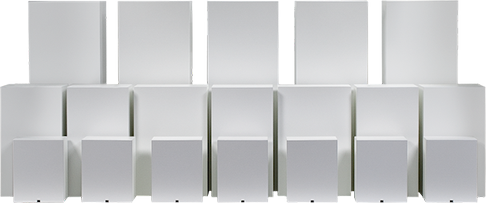 $1,600.00 per set
Our Standard Riser Set is optimized for use in our Jewel Box cases, providing the feel of individual pedestals for each specimen. Varying heights allow minerals to have a place of distinction while still existing in harmony with the overall presentation. All of our risers are made of a solid wood construction and are finished in an incredibly resilient paint. They've been designed to channel cords out of sight. Risers come in a variety of sizes to accommodate a range of minerals. Color customization available to match any interior.
Available in Black or White
Custom color upgrade available

Includes magnets for Backlight Hubs sold separately
Clutch mount compatible
Size Range (width x depth x height)
5 – 6" x 6" x 16"
2 – 6" x 4" x 9"
5 – 5" x 5" x 9"
7 – 4" x 4" x 5"
Bring Your Vision to Life
Risers allow your minerals to be displayed together in harmony. With our thoughtfully designed riser sets and systems, they also allow each mineral to shine in their own limelight. With a multitude of customizations available, every mineral is ideally positioned for admiration. Inquire about the risers or riser set best for you by contacting us at
Displays@FineMineral.com
.